After a bit of a delay I finally got around to finish painting the trailer begun some time ago. I think it has turned out really well but is eggregiously over-engineered – hence it has a new acronym-derived nickname: MOET (Massively Over Engineered Trailer). At least it should last for a good long time!
Here's some shots of the (mostly) finished product, which is painted with Interlux Brightsides marine paint using the "Roll and Tip" method. There's just two things outstanding for this right now – I have the vinyl to sew up a matching yellow spare tire cover and I'm in the process of designing a new LED-illuminated license plate holder to mount on the back center of the box (you can see the power connector for this is already installed in position). Yes, I'm not satisfied with any pre-made ones on the market currently. 🙂
Click on any of the images below to enlarge the picture.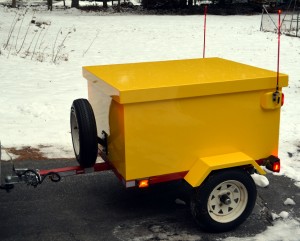 Front View – Note the shiny paint!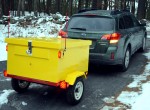 Rear View – Showing changes from the original version including illuminated guide posts and high signal lights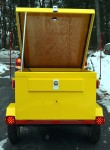 Hatch Lid Open – With revised integral wiring channel for compartment lighting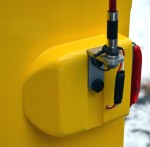 Front View of Added "Ear" – I needed a way to mount the guide lights which would allow them to clear the lid rim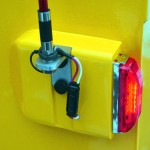 Rear View of "Ear" – Additional turn/stop signal light and guide light wiring is routed through here into box. Note the quick disconnect to allow removal of the guide posts for storage.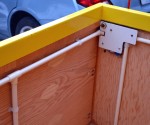 Driver Side Wiring Channel – Including protective cover for wiring junctions and switch for lid LED light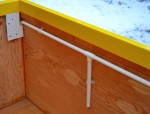 Passenger Side Wiring Channel – All wiring is routed inside dry fitted 1/2″ PVC pipe to protect it from cargo damage