Type: Contra Dance, Duple Improper
Status: Proven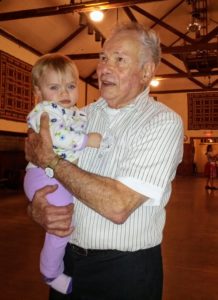 This is a conventional respin of my all-reverse dance Counter Clock-Weiss, written in memoriam to Eph Weiss. Eph was an active dancer in many folk styles in the Boston, MA area up until nearly his 93rd birthday. See Counter Clock-Weiss for the original composition.
A1
Neighbor Gypsy 1x
Ladies Pass Left Half Hey
A2
Neighbor Gypsy & Swing
B1
Give & Take to Gents, Partner Swing
B2
LLF & G Roll Away Partner on way Back
Star Right 3/4x to next
End effects:
Tune suggestions:
Video: First trial
See also: Counter Clock-Weiss
First called by me at the Greenfield, MA Guiding Star Grange on 8/18/2017.