Type: Contra Dance, Becket Left/CW
Status: Proven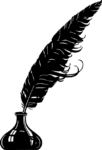 This dance came out of a discussion Will Mentor and I had about writing a dance which built up and defied expectations regarding when you'd get together with your partner. It was briefly titled "Finally!" during testing. Have received really positive dancer feedback on this (it's pretty cool when dancers seek you out at the end of the evening to praise/discuss a particular dance – you know it brought them joy. 🙂 ).
A1
Ladies Chain, Mad Robin CCW (Ladies front first) & look away from these NBRs
(w/Next NBRs) Circle Left 1/4x and continue into…
[see alternate original A1 notation below]
A2
Circle Left 3/4x, Neighbor Swing
B1
Full Hey (Gents Pass Left to start) BUT LADIES BOUNCE BACK SECOND TIME
B2
Partner Gypsy & Swing
End effects: Wait out crossed over on left to slide into A2 circle.
Tune suggestions:
Video: Me calling at the Greenfield, MA Shooting Star Series, 3/8/19
See also:
First called by me at Concord Scout House Monday Contras Series on 1/28/19.