I'm one half of a "new parents" team focused on our little daughter. Wow, kids require so much stuff!
So, we were planning an extended car trip and I knew we were not going to be able to comfortably fit all her stuff and support equipment into the car, with our own adult stuff, and still allow for us to feed her on the fly in her carseat in the rear. I knew this would mean external storage space but I hated the idea of one of those big rooftop boxes.
Why? Primarily two reasons:
Gas mileage impact: sort of like dragging a rooftop sail down the road, this was going to cause some serious drag
Access challenges: getting to the box on the roof and getting stuff into and out of it was going to be a pain. My back is not what it once was…
So I was thinking that a small enclosed rental trailer would be the ticket. Something like this one. Once I calculated the cost for our extended trip, I figured I could build one for the same or less money (than either the trailer rental or buying a good rooftop box) and we'd get to keep it for future needs. New project!
So I end up buying a Harbor Freight trailer frame kit. This ships-in-two-boxes kit comes pretty much complete but completely disassembled. They intend for you to add a make-your-own simple plywood platform and an optional stake side kit to complete it, which they supply basic plans for in the assembly directions. As I wanted to haul stuff in complete weather protection, I had to come up with a better solution.
My design ended up being a weather-tight wooden box made primarily from two sheets of 4′ x 8′ marine-grade plywood and a couple of 1″ x 4″ x 8′ poplar boards. It has a pretty simple but very effective gasket system, much like a refrigerator door (so effective, I find that opening it requires waiting for the resulting air lock to release!). Stainless hardware enables a swing open lid and good security. Upgrades include an LED trailer light kit (with the wiring harness expanded to include a dedicated ground wire throughout) and an interior LED light fixture to view the contents at night. Also a spare tire and mount (modified to go on the front surface of the box instead of on the frame tongue). I came up with a PVC pipe wiring channel to protect the wires underneath and keep the box weathertight.
The box is coated with West System marine epoxy currently and will eventually have a marine one-part polyurethane paint finish for better appearance and UV protection (have to wait for warm weather to apply it – all the assembly and coating to date was done in my residential basement due to sub-freezing weather!).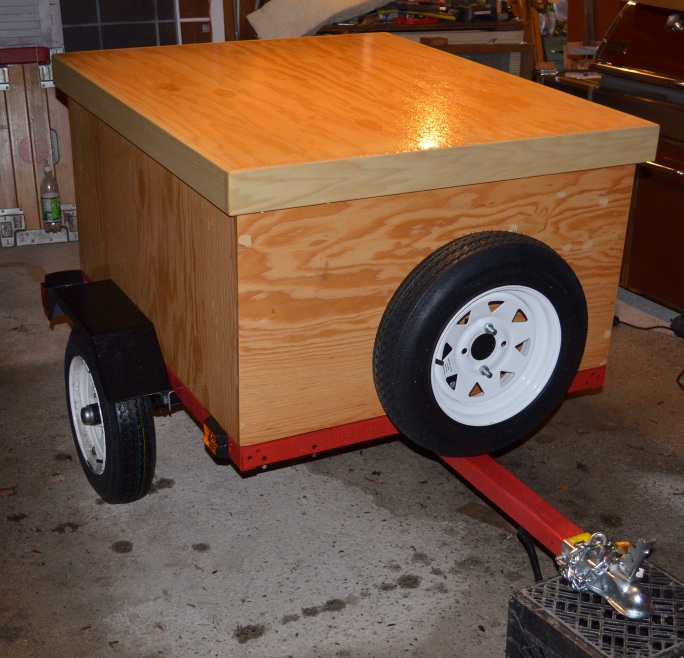 I'm really pleased with the result! The MA RMV had no issue in registering it. The trailer is barely noticeable in towing (~1500 miles so far), and seems to have little or no effect on our gas mileage. It swallows 4 large plastic storage bins and some additional bulky gear and is easily loaded and unloaded. The interior stays perfectly dry, even when using a power wash on it (I built in a boat drain plug just in case, but there is no need for it now). It is so light and well balanced that I can easily disconnect and wheel it around with one hand while still drinking a coffee with the other.
My only complaint is that it is so compact I can barely see it out of the rear of the car – which makes backing up a real challenge! Basically, once I see it on either side of the car while backing, it is too late – the trailer is at a significant angle already. I may need to add some lights or poles to show the corners of the box for backing up. But for now, I generally find it easier to just pop it off the car's hitch and wheel it where I want to put it than try to back it up any distance.
Will update this post later, once the final painting is completed.
Update 12/14/13: I finally finished this project in early fall of this year with some other enhancements besides just painting, check it out!