Type: Contra Dance, Becket
Status: Proven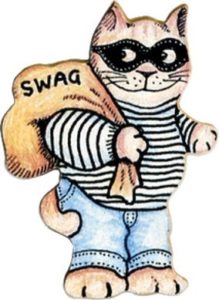 In a conversation with Nick Howe following Ogontz Family Week 2018, we reviewed a draft of his 2017 "The Cuckoo and The Robin." Nick's dance features a double Mad Robin sequence (CCW into CW) to a Circle Left to Swing. I liked his idea for the transitions and it inspired me to take a shot at flipping the Mad Robin rotation and grafting on other parts to arrive at this co-author dance nicking Nick's core idea.
This dance has been called several times to great dancer feedback. While you probably want to stress with dancers to take big graceful 8-beat Mad Robins in the B1, the subsequent circle acts as a timing shock absorber should everyone rush them. Energetic music seems to drive dancers to really haul on that bit while flowing/romantic encourages them taking up the time.
A1
Slice Left, Ladies Allemande Right 1+1/2x
A2
Neighbor Balance & Swing
B1
(Gents thru Middle First) Mad Robin CW around THIS Neighbor,
(Gents thru Middle First) Mad Robin CCW around NEXT Neighbor
B2
(w/orig. Ns) Circle Left 3/4x, Partner Swing
End effects: If you're in the dance and nobody's at the end for the second Mad Robin, either Mad Robin around a ghost or SeeSaw your Partner across and back to your side to continue with the Circle. If you're out, cross over and come in temporarily for the second Mad Robin then wait on the left diagonal for the slice.
Tune suggestions:
Video: Thursday Contras at the Concord Scout House, Inc., Top Hill Music dance at the Greenfield, MA Grange.
See also: Mad for Ogontz
First called by me at the NEFFA Thursday Contras dance at the Concord Scout House on 9/20/2018.